Guide To Massoia Bark Essential Oil and Its Benefits and Uses
Massoia bark essential oil is not often used in aromatherapy due to a high risk of skin irritation. Massoia (Cryptocarya massoy, Cryptocaria massoia, or Massoia aromatica) oil is commonly used in the flavoring industry.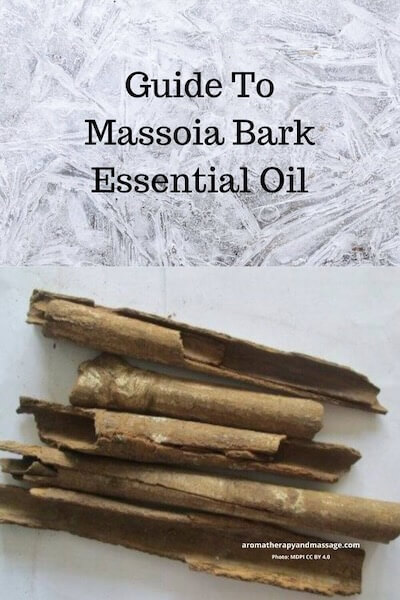 Plant family: Lauraceae
Production: Steam distilled from the tree's bark. A CO2 extract is also available.
Aroma: Fruity, coconut-like, warming, sweet.
Perfume/Aromatic note: Base
Is massoia bark safe to use during pregnancy? No.
Is massoia bark essential oil safe for children? Consult a professional.
Cautions: High risk of skin irritation. Do not use on hypersensitive, diseased, or damaged skin or on mucous membranes.
Some sources recommend completely avoiding use of this essential oil on skin. However, Lotus Garden Botanicals notes the irritation risk is most significant for light-skinned people—dark-skinned native Indonesians have used the oil for centuries.
If you want to add this oil in a skin preparation, use a very small amount—Essential Oil Safety recommends a dermal maximum of 0.01% while also noting not enough is known about the effects of massoia bark essential oil on skin. Spot test before using on a large area of skin.
Main components:
C-10 massoia lactone 64.8–68.2%
C-12 massoia lactone 14.6–17.4%
benyl benzoate          8.1–13.4%
beta-bisabolene         0–1.4%
Source: Essential Oil Safety, 2nd Edition
Massoia bark is available in four grades based on C10 lactone content: 50%, 65%, 90%, and 95%. Lotus Garden Botanicals states the higher the lactone content, the stronger the aroma of the oil. However, higher lactone content also makes the oil more irritating to the skin.

Massoia Bark Essential Oil Benefits and Uses

Essential Oils in Spiritual Practice: Massoia is a catalyst for peeling back the layers of the false self. The oil supports the first, second, and fourth chakras. This essential oil can help you spontaneously adapt to new situations and reorganize yourself and your environment as needed. You can use the oil for powerful, vivid dream work. See the book for more details, including using the oil with archetypes.
375 Essential Oils and Hydrosols: Massoia supports the respiratory system and may help alleviate digestive system infections.
Plant Therapy: Massoia bark promotes a calming and relaxing atmosphere.
Miracle Botanicals: Diffuse massoia essential oil to unwind, relieve stress, and promote sleep or to ease stomach discomfort and support the digestive process. You can also make a personal aromatherapy inhaler.
Jeanne Rose: The scent of massoia is relaxing, calming, and stress-relieving. In blending and perfumery, the essential oil adds a touch of coconut scent. The oil blends well with florals, such as rose; woods, such as sandalwood and atlas cedarwood; and fruity scents.
Photo Credit: Effect of Massoia (Massoia aromatica Becc.) Bark on the Phagocytic Activity of Wistar Rat Macrophages. CC BY 4.0