A Guide To Ledum Essential Oil and Its Benefits and Uses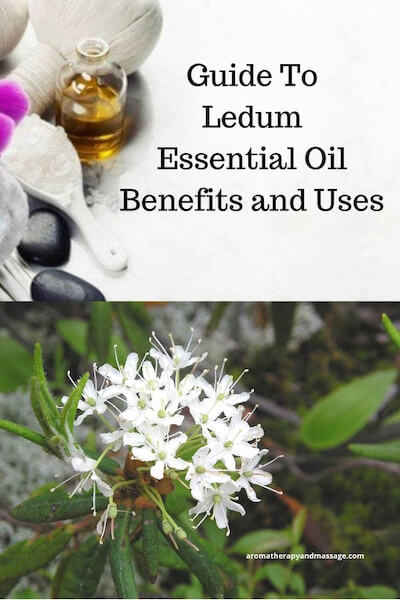 Ledum essential oil (Ledum groenlandicum) also goes by other names, most commonly labrador tea or greenland moss. Emotionally, the oil's calming properties help ease nervousness and promote relaxation before sleep, according to Plant Therapy.

Basic Ledum Facts
Plant family: Ericaceae

Production: Steam distilled from the leaves and flowers of a low-growing evergreen shrub often found throughout Canada, Alaska, and the northern U.S.

Aroma: Herbaceous

Perfume/Aromatic note: Middle

Is ledum essential oil safe to use during pregnancy? Yes, according to Plant Therapy. Always a good idea to consult a professional.

Is ledum safe for children? Yes, according to Plant Therapy.

Cautions: None known.

Main components:

sabinene        15.7%
terpinen-4-ol  7.6%
beta-selinene  5.7%
myrtenal        3.5%

Source: Essential Oil Safety, 2nd Edition

Ledum Essential Oil Benefits and Uses

The Complete Book of Essential Oils and Aromatherapy: Ledum may help relieve inflammation, water retention, swelling, injuries, muscle aches and pain, stress-related conditions, anxiety, and tension.

Essential Oils Complete Reference Guide:
Ledum supports the respiratory and digestive systems.
The oil is calming and may help relieve stomach upset and nervous indigestion.
Other uses include relieving cold and flu symptoms and helping heal inflamed and irritated skin, cuts, and wounds.
In Ayurveda, the oil's warm and spicy scent helps regulate and pacify both the Vata and Kapha doshas.

Stillpoint Aromatics: Ledum has the following energetic, spiritual, and emotional qualities:

Helps uncover hidden emotional patterns
Cleanses the emotional and spiritual bodies
Helps dissolve energy blockages when massaged onto the abdomen
Facilitates knowledge and understanding (brow chakra)
Opens the throat chakra, helping you express your truth
Supports the root chakra
Promotes spiritual healing, especially when blended with bergamot
Diffuse ledum during meditation, yoga, prayer, or massage to support energy flow and release and promote spiritual cleansing, harmonizing, and balancing.

Massage Oil

8 drops ledum essential oil
2 drops tea tree essential oil
5 drops lavender essential oil
5 drops niaouli essential oil
Jojoba oil
Drop essential oils into 2-ounce squeeze bottle. Fill the bottle with jojoba oil. Cap and shake to mix well. Use after a bath or for full-body massage.

Bath Salts

4 drops ledum
1 drop frankincense essential oil
2 drops geranium essential oil
1 tablespoon jojoba oil
1/2 cup epsom salt
Stir together all ingredients. Add to a full bath. Soak for 15-30 minutes.
Source: Eden's Garden

Photo Credit: Superior National Forest, CC BY 2.0, via Wikimedia Commons