Guide To Hyssop Essential Oil and Its Benefits and Uses

"Hyssop is a quintessential cleanser, enabling a clarity of spirit and recognition of the divine beneficent power in the universe," writes aromatherapist Valerie Ann Worwood in Aromatherapy For the Soul. She also says the emotional benefits of hyssop essential oil (Hyssopus officinalis) are to encourage awakening, acceptance, fulfillment, encouragement, direction, balance, and harmony.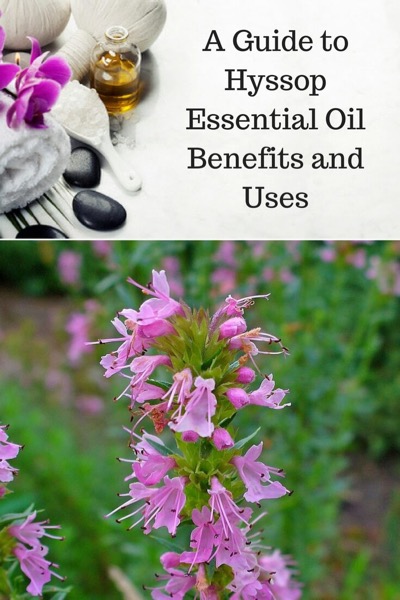 Hyssopus officinalis is high in pinocamphone, which might be toxic in large doses. For this reason, use only small amounts of this essential oil.

A gentler and safer chemotype of hyssop is available—Hyssopus officinalis var. decumbens. It doesn't contain much pinocamphone. Know which type you are buying.
Basic Hyssop Facts
Plant family: Lamiaceae/Labiatae

Production: Steam distilled from leaves and flowering tops   

Aroma: Green, sweet, herby, spicy

Perfume/Aromatic note: Middle

Is hyssop safe to use during pregnancy? No. Also, do not use while breastfeeding.

Is hyssop essential oil safe for children? Do not use with children under age 2, according to Essential Oil Safety.

Cautions: Do not use if you have epilepsy, according to most sources. Do not use the pinocamphone chemotype if you have high blood pressure. May irritate sensitive skin.

Main components:

Hyssopus officinalis (pinocamphone chemotype)
pinocamphone     31.2-41.7%
isopinocamphone  30.9-39.2%
beta-pinene         4.0-8.8%
Hyssopus officinalis var. decumbens (linalool chemotype)

linalool      48.0-51.7%
1,8-cineole 12.3-14.9%
Source: Essential Oil Safety, 2nd Ed.
Hyssop Aromatherapy Benefits

Aromatherapy: A Complete Guide to the Healing Art: Hyssop supports the respiratory and digestive systems. The essential oil also eases grief, fear, oversensitivity, and hysteria, while improving mental clarity.
The Complete Book of Essential Oils and Aromatherapy: Uses of hyssop essential oil include helping relieve coughs, colds, flu, bruising, arthritis, muscle aches and pains, and digestive problems.

The Encyclopedia of Essential Oils (updated edition): Hyssop may be beneficial for relieving bruises, respiratory problems, colds, flu, indigestion, anxiety, fatigue, and nervous tension.
The Complete Aromatherapy & Essential Oils Handbook for Everyday Wellness: Hyssop may help bruises, cuts, eczema, and wounds heal and may raise low blood pressure. The essential oil tones the digestive system and aids digestion and also helps relieve respiratory problems, especially when blended with eucalyptus globulus, ravensara aromatica, and niaouli essential oils. The oil helps relieve menstrual problems and also creates clarity, strengthens the nervous system, and reduces stress.

Aromatherapy Bible: "Hyssop has a special affinity for the respiratory system... It is good in compresses over bruises, and has an invigorating effect on the mind."
Complete Aromatherapy Handbook: Essential Oils for Radiant Health: Hyssop acts as a mental stimulant, providing clarity, increasing concentration, and stimulating creativity. You can use the oil on blemished skin and eczema and also to help relieve coughs and other respiratory problems.
Aromatherapy For Healing the Spirit: In Traditional Chinese Medicine hyssop is hot and stimulating and best used in moderation. This essential oil strengthens the lungs and the defensive Qi and may help improve poor vitality and breathlessness. Hyssop also strengthens the spleen-pancreas and warms the digestion, meaning the oil may help relieve appetite loss, slow digestion, and abdominal bloating.
Aromatica: A Clinical Guide to Essential Oil Therapeutics, Volume 2: Psychologically, hyssop promotes emotional renewal, stability, and insight and promotes mental stability. Physically, the essential oil restores hypotonic/weak and decongests damp/congestive conditions. In Traditional Chinese Medicine the essential function of the oil is to tonify the Qi, resolve phlegm-damp, and strengthen the Shen.

Subtle Aromatherapy: Use hyssop for cleansing space.

Aromatherapy and Subtle Energy Techniques: Hyssop clears negative energy and protects.

The Essential Guide to Aromatherapy and Vibrational Healing: Hyssop cleanses. Spiritually, the essential oil helps you rise above challenging situations to see the higher purpose of life experiences. You can also use the oil to help release negative thinking. Emotionally, the oil creates a sense of calm and relieves anxiety.
Mixing Essential Oils for Magic: Use hyssop to purify spaces for ritual, clear negativity, remove hexes, support psychic work, manifest change, enhance creativity, and inspire personal growth.
Hyssop Essential Oil Uses and Blends

Diffuser blend for respiratory/lung support:

10 drops eucalyptus essential oil (globulus or radiata)
10 drops rosemary essential oil
10 drops hyssop essential oil

7 drops lavender essential oil
Use a few drops of the blend in an essential oil diffuser.

Massage oil for nervous exhaustion:
7 drops lavender essential oil

5 drops grapefruit essential oil

5 drops hyssop

2 tablespoons carrier oil
Source: Floracopeia

For bruises: Use a cold compress with a few drops of hyssop or add the essential oil to a carrier oil and rub gently over bruise several times a day.

For digestion: Massage your abdomen with diluted hyssop. Most sources recommend using the herb, rather than the essential oil, to make a tea for digestion.

Photo Credit: H. Zell [CC BY-SA 3.0 ], from Wikimedia Commons