How to Do Abdominal Massage for Constipation and Relaxation

Learning how to do abdominal massage has many possible benefits. Let's look specifically at massage to help relieve constipation and massage for general relaxation purposes.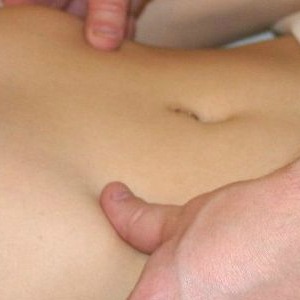 How to Do Abdominal Massage for Constipation Relief

Abdominal massage for constipation can help stimulate peristalsis waves in your colon. Peristalsis (movement of an internal organ) helps to move the stagnant fecal matter out of your colon.
Caution: If you have undiagnosed abdominal pain or any conditions affecting abdominal organs, do NOT massage your abdomen without the OK of your healthcare provider.
General Directions
For the best leverage, lie down to do the following abdominal massage for constipation. You could also stand in the shower and use a soapy solution for glide over your belly.
Take three to five minutes to do this massage. Notice if any areas feel slightly painful or tender. At first, use gentle pressure, although you may want to use more pressure after a few days. If you have tender or slightly painful areas, the discomfort will probably decrease with daily massages.
Important: If you have deep or persistent pain, STOP the massage. If the pain continues, consult a healthcare provider.
Massage for constipation:
Starting on the lower right side of your colon, near the leg crease, make small circular movements or short strokes and massage upward to the bottom of the rib cage.
Massage diagonally down and to the left until you are slightly below your navel (belly button).
Massage diagonally up to the left until you reach your left outer rib cage.
Massage downward until reach your left leg crease.
Tuina Massage Video
You can get a professional massage that includes abdominal massage. The following video demonstrates tui na massage techniques for the abdomen.

Benefits of Abdominal Massage for Relaxation

You have four layers of muscles in your abdomen, and that doesn't include the diaphragm, which lies directly under the rib cage, or the psoas, which is under those four muscles (rectus abdominis, external obliques, internal obliques, and tranverse abdominis).

These muscles get tense too! In fact, tense abdominal muscles can contribute to back pain and to problems with abdominal organs (stomach, colon, small intestine, liver, pancreas, and gall bladder).
Massaging the abdomen can improve blood circulation, create space in the abdominal cavity, and release the fascia, allowing organs to lay unrestricted in their natural positions.

Swedish Belly Massage Videos
The following two videos demonstrate a basic Swedish-based routine for how to do abdominal massage.
Abdominal Massage Therapy Techniques

When you massage abdominal muscles of another person, be gentle and ask for feedback. The abdomen is a sensitive area for many people. Here are some basic abdomen massage techniques:
Warm up rocking: Place your left hand on the person's forehead and right hand on the outside of the hip. Rock the person gently, finding a rhythm that suits the person receiving the massage. Move your right hand from the hip to the center of the abdomen and continue rocking. You can move your right hand to different areas on the abdomen to help release constrictions.


Wringing: Place one hand on each side of the person's torso. Move your hands from one side of the abdomen to the other in a wringing movement.


Place your flat palms, one on top of the other, on the person's lower right abdomen. Apply a gentle circular pressure and then move your hands slowly clockwise around the abdomen until you have massaged the entire area.


Place both of your hands under the person's back on the side opposite you. Alternating your hands, pull up and around the person's abdomen. Repeat on the other side.
More Ab Massage Information
In addition to general Swedish massage for the abdomen, two other specialized techniques are available:
Maya Abdominal Massage promotes optimum health by guiding internal abdominal organs into their proper position. Dr. Rosita Arvigo developed this technique using her medical background and knowledge gained from her apprenticeship with the Maya healer Don Elijio Panti. Maya massage reduces congestion and blockages to improve energy flow and the flow of fluids in the circulatory, lymphatic, and nervous systems.

Photo Credit: Massage Nerd