Guide To Goldenrod Essential Oil Benefits and Uses

Goldenrod essential oil (Solidago canadensis) is less common than many other oils. This oil promotes relaxation, encourages libido, stimulates circulation, and enhances the appearance of healthy-looking skin.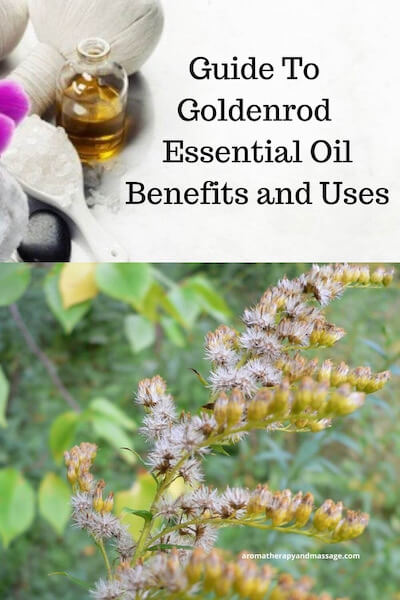 Basic Goldenrod Facts
Plant family: Asteraceae

Production: Steam distilled from the small, golden flowers of a tall, perennial plant.

Aroma: Herbaceous, earthy.

Perfume/Aromatic note: Middle.

Is goldenrod essential oil safe to use during pregnancy? Consult a professional.

Is goldenrod safe for children? Yes, for children age 2+, according to Revive Oils.

Cautions: None known.

Main components:

benyl acetate        19.5%
sabinene              18.8%
(+)-limonene         17.8%
alpha-phellanderne  11.9%
beta-myrcene          9.4%

Source: Essential Oil Safety, 2nd Edition

Goldenrod Essential Oil Uses and Benefits

The Encyclopedia of Essential Oils (updated edition): Uses for goldenrod essential oil in skin care include helping heal acne, cuts and wounds, skin inflammation, and insect bites. The oil may also help relieve respiratory mucous and congestion, coughs, colds and flu, chills, hay fever, laryngitis, sore throat, anxiety, depression, nervous tension, and stress.

Aromatherapy and Subtle Energy Techniques: Goldenrod helps balance the fifth chakra to improve the ability to communicate. The oil promotes receptivity to spiritual guidance through the sixth and seventh chakras.

Diffusion and Massage
Diffusion
Use goldenrod in a diffuser:

For mental clarity and focus during meditation, diffuse a few drops.
To promote positivity, blend with sunny citrus oils like orange or tangerine and diffuse.
For a romantic night, combine with ylang ylang and jasmine for a diffuser blend. You can also dilute the blend in carrier oil for massage.

Relaxing Massage
Add 2 to 4 drops goldenrod to one tablespoon carrier oil.

Sports Massage
Add the following essential oils to a 2-ounce squeeze bottle:

8 drops goldenrod
5 drops Roman chamomile essential oil

5 drops rosemary essential oil
2 drops lavender essential oil
Fill the bottle with jojoba oil. Close cap and shake to mix well.
Skin and Body Care
To promote healthy-looking skin, add a drop of goldenrod to your daily face wash or moisturizer.
For a pleasant, masculine scent, add goldenrod to a DIY cologne or other aromatherapy products for men. Or put a drop on the base of the neck for a calming personal fragrance.

For a luxurious bath, stir in a blend of 2 to 3 drops goldenrod in 1 teaspoon honey and 1 teaspoon liquid castile soap.

Bath Salts

3 drops goldenrod essential oil

3 drops copaiba essential oil
1 drop of atlas cedarwood essential oil
1 tablespoon jojoba oil
1/2 cup of Epsom salt
Stir together all ingredients. Add to a full bath for a relaxing soak.

Insect Bite Relief

5 drops goldenrod
3 drops lavender essential oil
2 drops helichrysum essential oil
2 tablespoons (1 ounce) aloe vera gel
Blend ingredients in a small squeeze bottle. Shake before using. Apply to insect bites 2 or 3 times a day or as needed.

Insect-Repelling Potpourri
Add 2 cups dried flowers or potpourri to a bowl. Sprinkle 10 to 15 drops goldenrod over the flowers. Place the bowl in an area where you want to repel insects.

Sources:
Eden's Garden, Young Living, Revive Oils

Photo Credit: Georg Slickers, CC BY 3.0, via Wikimedia Commons