Guide To German Chamomile Essential Oil and Its Benefits and Uses

"When used with purpose and direction, the fragrance of the [German] chamomile assists in seeking spiritual understanding," writes aromatherapist Valerie Ann Worwood in Aromatherapy For the Soul. She also says the emotional benefits of German chamomile essential oil (Matricaria recutita or Matricaria chamomilla) are to encourage communication, relaxation, understanding, organization, empathy, patience, and calm.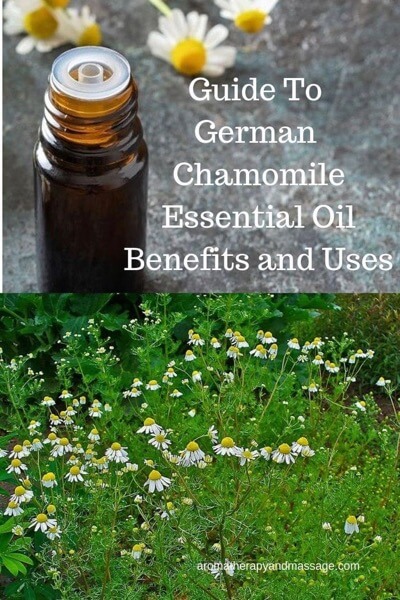 Basic German Chamomile Facts
This oil is also called blue chamomile. The British spelling of chamomile is camomile.
Also see profiles of Roman chamomile and Moroccan chamomile.
Plant family: Asteraceae/Compositae

Production: Steam distilled from the daisy-like flowers of the plant, an annual herb.

Aroma: Sweet, fruity, herbaceous.

Perfume/Aromatic note: Middle

Is German chamomile safe to use during pregnancy? Yes, according to Aromatherapy and Massage For Mother and Baby and the IFPA Pregnancy Guidelines. However, I saw some sources caution against the oil's use—it's always a good idea to consult a professional.

Is German chamomile essential oil safe for children? Yes.

Cautions: The oil is blue and can stain light-colored fabrics. As a member of the daisy family, chamomile could cause a reaction in someone allergic to ragweed.

Main components: Blue chamomile oils are produced in many parts of the world. The composition of the oil varies greatly, according to Essential Oil Safety, 2nd Edition. Common among the main components are:
alpha-bisabolol oxide A
alpha-bisabolol oxide B
alpha-bisabolol
farnasene
(E)-beta-farnesol
chamazulene
German Chamomile Aromatherapy Benefits

Aromatherapy: A Complete Guide to the Healing Art: German chamomile is good for all skin and hair types and can help heal minor skin conditions. The essential oil eases the pain of sprains, tendon and joint injuries, menstrual cramps, and headaches. The oil is also useful for indigestion and PMS relief. Emotionally, the oil can help reduce oversensitivity, stress, anxiety, insomnia, or suppressed anger.

The Heart of Aromatherapy: Use German chamomile essential oil for daily skin care, rejuvenating damaged skin, soothing sore joints and muscles, relieving swelling and pain, and soothing bug bites and stings.

The Complete Book of Essential Oils and Aromatherapy: In skin care, use German chamomile for inflamed skin conditions, wounds, rashes, psoriasis, eczema, acne, and pimples. Other uses for the oil are to help relieve pain and inflammation, fever, rheumatism, arthritis, muscle spasm, neuralgia, menstrual cramps, and stomachache.

The Encyclopedia of Essential Oils (updated edition): Uses of German chamomile include skin care, muscle and joint pain, indigestion and nausea, menstrual cramps, menopausal symptoms, headache and migraine, insomnia, nervous tension, and stress-related conditions.

Aromatherapy For Healing the Spirit: In Traditional Chinese Medicine, German chamomile soothes the flow of the body's Qi-energy, helping to relax nerves, calm spasm, and ease pain. The oil also clears heat and helps reduce inflammation. This essential oil is one of the most important for skin care.

Aromatica: A Clinical Guide to Essential Oil Therapeutics, Volume I: Psychologically, German chamomile promotes emotional flexibility and stability and calms the mind while promoting relaxation. Physically, the essential oil relaxes and cools hypertonic/tense conditions and vigorous/hot conditions. The oil relaxes the nervous system, reduces spasm and pain, and helps relieve insomnia, anxiety, and PMS, among other benefits.  In Traditional Chinese Medicine the essential function of the oil is to regulate the Qi, settle the Heart, and calm the Shen.

Subtle Aromatherapy: German chamomile soothes and strengthens the throat chakra, helping you speak your truth without anger or bitterness.

The Essential Guide to Aromatherapy and Vibrational Healing: German chamomile helps you connect to guides and angels in dreams — place a drop on a tissue and inhale before going to bed. The essential oil can calm the mind chatter and help you sort out your thoughts. The oil can also help relieve insomnia and subdue emotional outbursts caused by PMS, menopause, or other hormonal imbalances.

Aromatherapy and Subtle Energy Techniques: German chamomile calms, comforts, and gently helps balance emotions. The essential oil is especially useful for the second chakra to calm and soothe emotions, to help you calmly feel and understand emotions, and to promote calm understanding of your relationships with others.
Mixing Essential Oils for Magic: Use German chamomile to attract love, beauty, luck, money, prosperity, peace, justice, and personal growth. The oil brings clarity and success in communication.
German Chamomile Essential Oil Uses and Blends
To brighten your hair and bring out the highlights, add German chamomile to your shampoo, according to Aromatherapy for Dummies.

For Muscles and Joints
Double Chamomile Pain Relief Cream

Make this blend in a 1-ounce (30-ml) glass jar:
1 ounce (2 tablespoons) natural unscented cream
7 drops Roman chamomile essential oil
10 drops German chamomile essential oil
Put the cream into the jar. Stir in the essential oils with a glass stirring rod or the handle of a stainless steel spoon.

Massage the cream into muscles and joints that feel painful, tense, cramped, strained, or swollen. Apply as needed every few hours.

Source: Aromahead Newsletter

Swelling Relief

2 tablespoons unscented lotion or carrier oil
8 drops German chamomile 
3 drops lavender essential oil
3 drops helichrysum essential oil
3 drops patchouli essential oil
1 drop neroli essential oil

Blend the essential oils into the carrier oil in a small glass container. Use as needed on swollen muscles, joints, and tendons.

Adapted from Aromatics.

Skin Care
Sensitive Skin Care Oil
Blend ingredients in a two-ounce dark glass bottle:
8 drops German chamomile
6 drops palmarosa essential oil
2 drops rose essential oil
2 drops helichrysum essential oil
2 drops carrot seed essential oil
3 tablespoons carrier oil
Shake gently. Let sit for at least 8 hours before using. To use, apply a few drops to your skin.
Adapted from Essential Oils Complete Reference Guide
Toner for Normal Skin

1 drop German chamomile
1 drop clary sage essential oil
4 drops lemon essential oil
6 drops lavender essential oil
1/4 cup distilled water

Add essential oils to distilled water in a spray bottle. Shake the bottle vigorously before spraying the toner onto clean skin.

Source: Aromatherapy for Common Ailments

Face Wash For Inflamed Skin
Blend the following ingredients in a small glass container:

2 ounces (1/4 cup) baby castile soap
1 tablespoon aloe vera gel
1 tablespoon lavender hydrosol
7 drops lavender essential oil
4 drops German chamomile
4 drops Roman chamomile

Source: Jade Shutes. "Essential Oil Monograph: German Chamomile." NAHA Aromatherapy Journal, Summer 2013.2, p. 23.
Photo Credit: Chamomile plant by H. Zell - Own work, CC BY-SA 3.0 via Wikimedia Commons.