How to Use Essential Oils for Panic Attacks

While essential oils for panic attacks are not a cure, they may help you manage or stop panic attack symptoms. 
If you feel a panic attack coming on, aromatherapist Valerie Ann Worwood in The Fragrant Mind recommends applying undiluted lavender essential oil to your neck and chest. 
Later, to relax more, take a warm bath with 8 drops of lavender. Or, blend 5 drops lavender with a teaspoon of carrier oil and massage your neck, shoulders, and abdomen.
Using essential oils for panic attacks when you feel one coming on may help you avert the attack or lessen its effects.
Calming Blend of Essential Oils for Panic Attacks

If you are prone to panic attacks, Worwood recommends this calming blend: 
10 drops lavender essential oil

10 drops helichrysum essential oil

5 drops frankincense essential oil
5 drops marjoram essential oil
Blend the essential oils in a small, dark bottle and keep it with you to use when you feel panic attack symptoms. You can also use a few drops in a bath or make a massage oil.
If you prefer not to carry a bottle of oil, another option is using an aromatherapy inhaler. An inhaler is about the size of a tube of lipstick and contains a cotton wick. You apply essential oils to the wick, and put the cap on the inhaler. When you need it, take off the cap and sniff.
Other Aromatherapy for Panic Attacks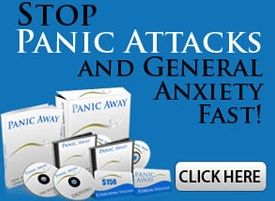 Other blends of essential oils you can try for panic attacks:
4 drops frankincense + 1 drops rose
4 drops lavender + 1 drops rose
3 drops frankincense + 2 drops helichrysum
4 drops lavender + 1 drop neroli
You can:
Make a massage oil blend by adding your preferred essential oil blend to 1/2 ounce (1 tablespoon) carrier oil.


Make a room spray by doubling the number of drops and mixing with 1.5 ounces (3 tablespoons) distilled water in a clean spray bottle.


Diffuse the blend using an aromatherapy diffuser.
Other essential oils sometimes recommended for panic attacks are:
Bergamot
Roman chamomile
Marjoram 
Rosemary
Sandalwood
Ylang ylang
You can experiment to find the oils that work best for you. 
If you are with someone having a panic attack, make a compress:

Drop the essential oils onto a warm, wet cloth. Place it on the back of the person's neck. When the compress cools or dries, replace it.
Source: Essential Oils For Healing

Image Credit: Chris Harvey/PhotoXpress