Dog Massage: Basic Technique, Video, and Canine Massage Schools

Dog massage has become increasingly popular as people realize that animals can benefit from massage as much as people do. Canine massage therapy is especially good for older dogs or ones recovering from injury. Some of the many benefits include: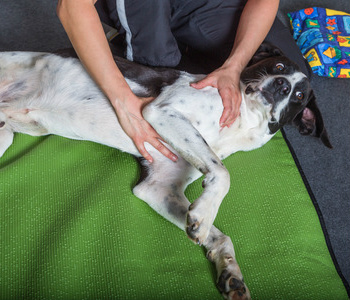 Massaging your dog is a great way to bond with your pet.
Improves the quality of movement by relaxing muscles and supporting the health and function of joints
Stimulates circulation


Improves coordination and athletic agility


Helps release restrictions such as adhesions and knots


Helps reduce the risk of injuries


Relaxes the animal, providing benefits such as lower blood pressure, improved digestion, and better immune system function
You can take your dog to a professional pet massage therapist, a good idea if the animal has a specific problem that needs to be addressed. However, learning some basic massage techniques to use with your pet can help the two of you bond.
Basic Massage for Dogs
The first thing to know about massaging your dog is to listen and never do anything to aggravate her. Here's a basic massage:
Lay your dog on her side. Stroke her lightly and gently in the direction of hair growth until she starts to relax. Keep one hand on your dog at all times, using your other hand to massage slowly down over your dog's head, face, body, legs, tail, and outside of the legs. 


Gently massage up the inside of your dog's legs, against the hair growth.


Find tight spots in the muscles and use a firm circular motion on them. You can also gently squeeze and then release the muscle.

You can also use essential oils with dogs.

Dog Massage Video
Canine Massage Schools
Abundant Life Canine Massage, Sarasota, Florida
Doggone U at Bancroft School of Massage Therapy, Worchester, Masschusetts
Brandenburg Massage Therapy, Martins Ferry, Ohio
Equissage, Round Hill, Virginia
Holistic Animal Courses, online courses
Ojai School of Canine Massage, Ojai, California
Lang Institute for Canine Massage, Loveland, Colorado
Northwest School of Animal Massage, Fall City, Washington
PetMassage™ Training and Research Institute, Toledo, Ohio
Rocky Mountain School of Animal Acupressure & Massage, Carbondale, Colorado
Also, see the International Association of Animal Massage & Bodywork.
Photo Credit: msgrafixx / 123RF Stock Photo