Equine Massage Therapy: Benefits, History, & Horse Massage Schools
Equine massage therapy offers horses many of the same benefits that people receive from massage. Benefits include helping keep muscles healthy, strong, and supple.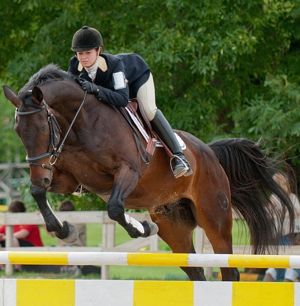 Equine massage can help improve a horse's performance.
History of Horse Massage
Although historians believe the ancient Greeks massaged both their horses and warriors before battle, little is known of the history of equine massage. 
In the 1970s, sports massage therapist Jack Meagher started using sports massage therapy for horses and was part of the U.S. Equestrian Team at the 1976 Montreal Olympics. 
Meagher, working with Jo-Ann Wilson, went on to develop the Wilson Meagher™ Method of Equine Sports Massage. This style of massage for horses combines Meagher's sports massage techniques with Wilson's knowledge of soft tissue applications, biomechanics, and conditioning for horses.
Since the 1970s, other approaches to equine massage have also been developed. In fact, many forms of massage used for humans are also used for horses.
Barb Crabbe, DVM, notes the five most common types of massage used for horses:
Basic massage techniques include percussion (gentle tapping), effleurage (light to firm stroking), and compression (applying deeper pressure).
Myofascial release uses stretching and manipulation techniques to release restrictions in the fascia of the musculoskeletal system. Fascia becomes tight and restricted due to trauma, disease, or hard work.
Trigger-point therapy uses direct pressure to release trigger points—sensitive spots that cause soft-tissue pain.
Manual lymphatic drainage (MLD) helps clear edema (fluid accumulation in the tissues), a common problem caused by issues ranging from an allergic reaction to injury to inactivity. MLD uses a specialized system of light strokes to mobilize excess fluid and encourage it to travel to the lymphatic vessels so it can be cleared.
Stretching can help increase muscle flexibility and range-of-motion of joints while improving the musculoskeletal system's overall health.

Source: "Equine Massage Therapy Beyond the Basics," Horse & Rider, Summer 2019.
You can also use essential oils for horses.
Equine Massage Therapy Schools
Equine massage training is widely available, both for professional therapists and for horse owners and trainers. Training for massage therapists typically includes horse anatomy and physiology, movement and performance analysis, assessment and evaluation, hands-on techniques, business management, and more. 
Equine massage schools teach a complete understanding of horse anatomy, along with the ability to look at the horse as a whole and consider all possible causes and effects of tension. Therapists also learn to interpret the horse's reactions and expressions.
"Equine massage practitioners have to be able to assess not only what is going on for the horse at any time but also what the relationship between the horse and rider is contributing," according to Lola Michelin, LMP, in the Winter 2013 issue of Washington Massage Journal.
The National Board of Certification for Animal Acupressure & Massage (NBCAAM) certifies practitioners in equine massage and acupressure.
Here's a list of horse massage schools. You also can often find local classes that offer an introduction to massaging horses.
Animal Dynamics, Reddick, Florida
Brandenburg Massage Therapy, Martins Ferry, Ohio
D'Arcy Lane Institute, London, Ontario, Canada
Equine Massage/Muscle Therapy, Camden, South Carolina
Equissage, Round Hill, Virginia
EquiTouch Equine Massage Therapy, Cheyenne, Wyoming
Geary Whiting's Equine Massage School, Big Sur, California
Holistic Touch Therapy, Equine Massage Certification Programs, online and in Texas
Northwest School of Animal Massage, Fall City, Washington
Tallgrass Animal Acupressure Institute offers training around the country.
Western Montana School of Horse Massage, Corvallis, Montana
Wilson Meagher Sportstherapy, Concord, Massachusetts
Tellington TTouch Training for Horses
Photo Credit: Bob Haarmans/Flickr/CC