Guide To Dill Essential Oil Benefits and Uses

"The joy of life is encapsulated in dill, and the taking in of spiritual nourishment from the heavens, bringing closeness with the angelic realms," writes aromatherapist Valerie Ann Worwood in Aromatherapy For the Soul. She says the emotional benefits of dill essential oil (Anethum graveolens) are to encourage tenderness, transformation, harmony, soothing, calm, and cushioning.

This profile is for dill seed oil. Dill weed oil is also available and has a different composition.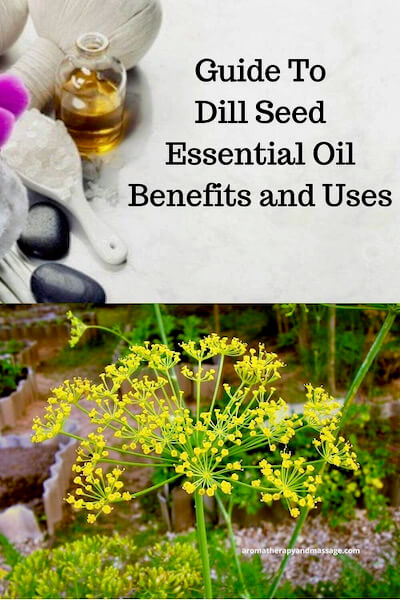 Basic Dill Seed Facts
Plant family: Apiaceae/Umbelliferae

Production: Steam distilled from the seeds of the plant.

Aroma: Lightly earthy, sweet, herbaceous

Perfume/Aromatic note: Middle

Is dill essential oil safe to use during pregnancy? No, according to Aromatica: A Clinical Guide to Essential Oil Therapeutics, Volume 2.

Is dill safe for children? Do not use with babies.

Cautions: Do not used an oxidized oil.

Main components of European dill seed:

(+)-limonene          35.9–68.4%
(+)-carvone            27.3–53.3%
(z)-dihydrocarvone  2.9–3.7%
alpha-phellandrene  1.0–2.3%
(e)-dihydrocarvone  1.7–1.8%
Note: Indian dill seed is also available and has a different composition.
Source: Essential Oil Safety, 2nd Edition

Dill Aromatherapy Benefits

The Complete Book of Essential Oils and Aromatherapy: Dill may help relieve headaches, menstrual pain, colic, indigestion, intestinal cramps or spasms, constipation, nervous stomach, and nervousness. The oil may also help stimulate digestion.

The Encyclopedia of Essential Oils (updated edition): Uses of dill essential oil include helping ease colic, indigestion, flatulence, and menstrual problems.
Base Formula: Dill seed essential oil may help wounds heal, calms and soothes the nerves, and helps relieve digestive problems such as indigestion, flatulence, colic, and constipation.

The Complete Guide to Aromatherapy, Third Edition, Vol. 1: Dill calms the digestive system to help relieve colic, indigestion, and flatulence and may also calm menstrual cramps. In Traditional Chinese Medicine, the oil is warming and drying and helps circulate Qi in the stomach for digestive relief. The oil also helps with the general circulation of Qi and disperses cold, which can help relieve rheumatic and arthritis pain.

Suggested essential oils to blend with dill:

To alleviate indigestion: aniseed, basil, sweet fennel. coriander sed, sweet marjoram, sweet orange, peppermint, or spearmint.
To clear negative emotional energies: frankincense, lavender, lemon, or sandalwood.

Essential Oils Handbook: In Ayurveda dill is pungent, bitter, and hot and helps reduce pitta and kapha.
Aromatherapy and Subtle Energy Techniques: Dill helps calm, soothe, and balance emotions. The oil promotes emotional balance and harmony at the second chakra.

Mixing Essential Oils for Magic: Dill has a history of use in love potions and can help find a balance between lust and desire. The oil helps attract money, prosperity, and security, boost creativity, and support divination.

Dill Essential Oil Uses and Blends

Calming Diffuser Blend

2 drops dill essential oil
2 drops sweet orange essential oil
3 drops bergamot essential oil

Indigestion Relief

3 drops dill

2 drops mandarin essential oil
1 drop ginger essential oil
1 tablespoon carrier oil
Blend ingredients. Rub some of the blend on the abdomen and chest, massaging upwards towards the heart.
Source: Base Formula

Toning Face Serum
This serum may help reduce the appearance of redness, fine lines, and wrinkles.
6 drops dill seed essential oil
6 drops lavender essential oil
6 drops frankincense serrata essential oil
2 tablespoons carrier oil
Blend all ingredients in a small glass jar or bottle. Cap and shake well. Store serum in a cool, dark place.
Use 2 or 3 times a week. Apply a few drops to clean the skin and gently massage in slow circles until the oils are fully absorbed. Then apply moisturizer or makeup as usual.
Adapted from Rocky Mountain Oils
Photo Credit: Bff, CC BY-SA 3.0, via Wikimedia Commons