Guide To Davana Essential Oil Benefits and Uses

Davana essential oil (Artemisia pallens) comes from a small herbaceous plant native to southern India. Ayurvedic healers traditionally used the plant to balance the three energies of pitta, kapha, and vata.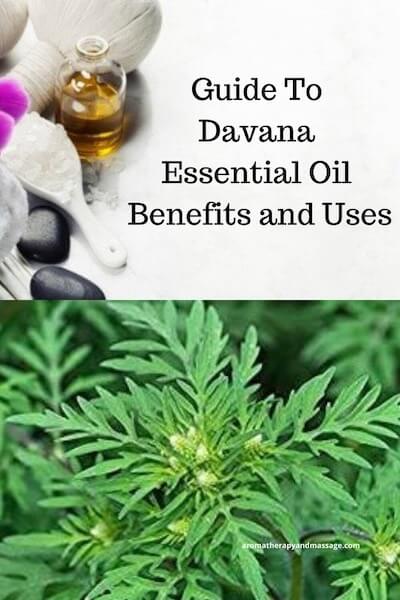 Basic Davana Facts
Plant family: Asteraceae (daisy family).

Production: Steam distilled from the whole plant.

Aroma: Sweet, fruity, slightly woody.

Perfume/Aromatic note: Base

Is davana safe to use during pregnancy? No, according to The Complete Book of Essential Oils and Aromatherapy.

Is davana essential oil safe for children? Yes, for children age 2+, according to Revive Oils. Consult a professional for details.

Main components:

(z)-davanone 38%
nerol           10%
furans           6%       
(e)-davanone  5%
(The davonone content can be as high as 55%.)

Source: Essential Oil Safety, 2nd Edition

Davana Aromatherapy Benefits
Aromatherapy: A Complete Guide to the Healing Art: Davana may regulate menstruation, increase circulation, soothe skin irritation, and act as an aphrodisiac. The oil balances energy, reduces anger, and releases negative thoughts.

The Complete Book of Essential Oils and Aromatherapy: Davana may help relieve colic, indigestion, flatulence, gastrointestinal spasm, constipation, nervous stomach, headaches, menstrual pain, and nervousness. The oil may act as a digestive stimulant and have detoxifying benefits.
Therapeutic Blending With Essential Oil: Davana helps relieve anxiety, soothes dry, rough skin, and stimulates the endocrine system.
Young Living: Using davana in skin care preparations promotes the appearance of radiant, glowing skin. The oil also heightens the senses when used during meditation Diffusing this essential oil creates an environment of joy and romance.

Plant Therapy: Davana promotes relaxation, quiets the mind, helps soothe frazzled nerves, and helps relieve menstrual cramps and menopausal symptoms. To help restore depleted emotional reserves, diffuse this blend:

2 drops davana
1 drop lavender
3 drops frankincense
Rocky Mountain Oils: Davana essential oil creates a serene environment for meditation, uplifts mood, reduces anxiety, and enhances well-being. The oil also helps improve focus, concentration, memory, and creativity. The oil may also help relieve muscle pain and tension, boost the immune system, and improve digestion. Natural skin care products use the essential oil for anti-aging effects.
Skin Rejuvenating Serum

2 tablespoons jojoba oil
5 drops davana
5 drops geranium essential oil
5 drops frankincense essential oil
Blend all oils in a glass bottle. Gently massage a little of the blend onto your face.
Ayurveda and Aromatherapy: Davana is excellent for menopausal women and useful in regulating menstruation. The essential oil is indicated for gout, skin irritation, anger, energy balancing, and ovarian cysts. To use the oil for cysts, make a compress and place it over the affected ovary.

Davana Essential Oil Uses and Blends
For a fruity and all-natural fragrance, combine davana with a carrier oil and apply to wrists and neck

Diffuse the essential oil to create an ambience of joy and romance.

Serenity Diffuser Blend

2 drops davana essential oil  
2 drops frankincense essential oil
1 drop lavender essential oil
3 drops mandarin essential oil
Source: Plant Therapy Essential Oil Recipe Collection
Rest and Relax Diffuser Blend

2 drops davana
2 drops lemon essential oil
2 drops lavender essential oil
2 drops peppermint essential oil
Source: Loving Essential Oils

Headache Oil
2 tablespoons carrier oil
5 drops davana
4 drops lemon essential oil
9 drops frankincense essential oil

Pour the carrier oil into a one-ounce (30 ml) bottle. Drop in the essential oils. Close bottle and shake gently. Use the oil to massage your neck, shoulders, and scalp as needed.

Source: Aromahead Newsletter
Exfoliating Sugar Scrub
1/2 cup granulated sugar
1/4 cup jojoba oil
1/4 cup sesame oil
10 drops davana essential oil
10 drops atlas cedarwood essential oil
12 drops tangerine essential oil
2 drops vetiver essential oil

Mix together the sugar and jojoba and sesame oils in the jar. Drop in the essential oils and stir well.

Use a spoon to scoop out scrub. Gently massage one tablespoon over your body. Rinse and blot skin dry to seal in moisture.

Avoid getting the scrub in the jar wet to prevent contamination.

Source: Eden's Garden