Guide To Calamus Essential Oil

Calamus essential oil is available in three forms:

diploid (Acorus calamus var. americanus)
tetraploid or hexaploid (Acorus calamus var. angustatus)
triploid (Acorus calamus var. calamus)

Depending on the form, this essential oil has varying degrees of potential toxicity (and possible carcinogenicity). Many aromatherapy sources recommend avoiding the oil or using it only under the guidance of a professional.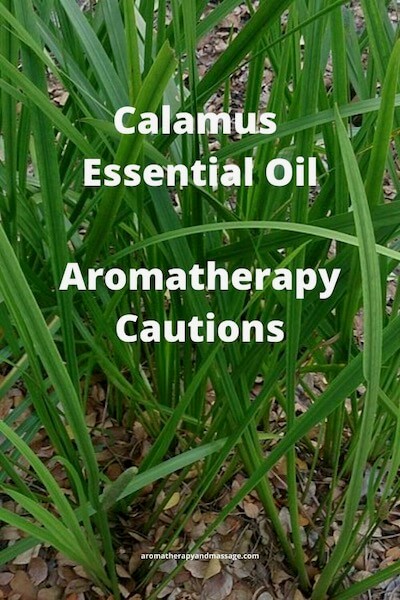 Plant family: Araceae

Production: Steam distilled from the roots (rhizomes) of the plant, which is also called sweet flag or sweet sedge. The reed-like aquatic plant has small greenish-yellow flowers and grows on the edges of lakes and streams with the long-branched rhizome immersed in mud.

Aroma: Faintly sweet and waxy.

Perfume/Aromatic note: Base

Is calamus essential oil safe to use during pregnancy? No, and do not use while breastfeeding.

Is calamus essential oil safe for children? Unlikely. Consult a professional.

Main components:

Diploid: shyobunones, acorenone, preisocalamendiol
Tetraploid or hexaploid: beta-asarone, isoeugenol, calamenene
Triploid: shyobunones, beta-asarone

For more details, see Essential Oil Safety, 2nd Edition. The book states the most commonly available form of the oil is tetraploid and recommends a dermal maximum of 0.2% for it.
Calamus Essential Oil Benefits and Uses
Aromatherapy and Subtle Energy Techniques: Calamus is useful for any type of spiritual/intuitive work, bringing information directly from the seventh chakra to the sixth chakra, where the mind can understand the information, and to the fifth chakra for communication.
Essential Oils Natural Remedies: Calamus helps ease headaches and promote a refreshed, renewed feeling. Diffuse this essential oil at the first sign of a headache or use it (sparingly) in an aromatherapy pendant or inhaler.

Lotus Garden Botanicals: The best-suited use for calamus is in perfume or spiritual holy anointing oils.
Original Swiss Aromatics: Calamus may help relieve rheumatic conditions, reduce spasms, and enhance memory. In ayurveda, calamus root is a brain tonic that supports the nervous system. The Old Testament mentions a holy anointing oil made of calamus, myrrh, cinnamon, and cassia.
Gya Labs: Calamus may help improve concentration and memory, as well as soothe stress. The oil blends well with the essential oils of clary sage, geranium, lavender, marjoram, rosemary, and tea tree.
Healing in the Bible With Essential Oil by aromatherapist Rebecca Park Titilo: In mild doses calamus may help maintain nervous system health and in very low doses aid sleep. The oil may also help relieve spasms, along with calming the mind, promoting positive thoughts, and relaxing the body. This essential oil blends well with clary sage, geranium, lavender, marjoram, rosemary, and tea tree.
Photo Credit: Mokkie, CC BY-SA 3.0, via Wikimedia Commons