Guide To Bitter Orange Essential Oil and Its Benefits and Uses

Bitter orange essential oil (Citrus aurantium) generally has the same benefits and uses as sweet orange oil, though some sources indicate bitter orange may have a stronger effect.

Bitter oranges are smaller and darker than sweet oranges. The bitter orange tree also gives us two other oils: petitgrain, distilled from the leaves, twigs, and sometimes immature fruit, and neroli oil, distilled from the flowers.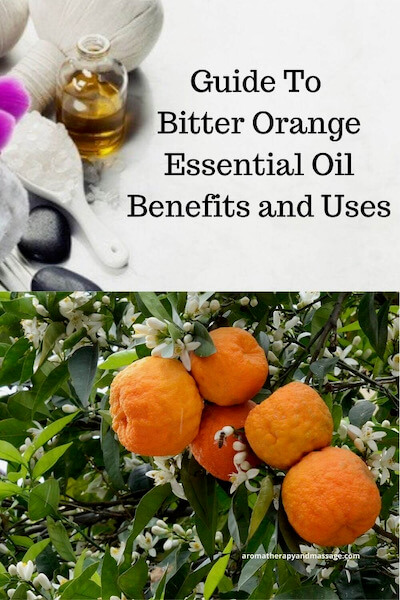 Basic Bitter Orange Facts
Plant family: Rutaceae

Production: Mechanically expressed from the peel.  

Aroma: A cross between the sweetness of sweet orange and the slight bitterness of grapefruit. The aroma has a dry citrus note compared to the sweet note of sweet orange oil.

Perfume/Aromatic note: Top

Is bitter orange safe to use during pregnancy? Maybe. Consult a professional. IFPA Guidelines indicate the oil may help relieve water retention.

Is bitter orange essential oil safe for children? Yes, though you may want to avoid use with babies. Consult a professional.

Cautions: Bitter orange oil has a low risk of photosensitivity as long as the dilution for skin use is no more than 1.25%. If the oil becomes oxidized, it can cause skin sensitivity.

Main components:

(+)-limonene  89.7–94.7%
beta-myrcene 1.6–2.4%
linalool          0.1–2.0%
bergapten      0.035–0.073%

Source: Essential Oil Safety, 2nd Edition

Bitter Orange Essential Oil Benefits and Uses

The Encyclopedia of Essential Oils (updated edition) specifies the same uses for bitter and sweet orange: Dull and oily complexion, mouth ulcers, fat loss, water retention, constipation, indigestion, digestive spasms, colds, flu, respiratory support, nervous tension, and stress-related conditions.

375 Essential Oils and Hydrosols: Bitter orange is calming and sedating. It's useful for relieving anxiety and vertigo.

Essential Oils: A Handbook for Aromatherapy Practice: Bitter orange supports digestion while promoting a feeling of well-being. This essential oil is useful for the solar plexus (third) chakra and is especially noted for relaxing effects and ability to promote cheerful feelings and counteract feelings of anger and frustration. Suggested oils to blend with bitter orange:

To help relieve stress and anxiety: marjoram
To help relieve debility and depression: clary sage

Quinessence Aromatherapy: Use bitter orange in massage blends to help relieve poor digestion, constipation, and liver congestion. This essential oil is cleansing, stimulating, and toning and may help reduce edema, cellulite, and varicose veins. The oil uplifts and energizes the body, while calming the mind and emotions, making the oil beneficial for meditation and helpful in easing stress and anxiety.

New Directions Aromatics: Bitter orange is uplifting, balances skin moisture and oiliness, helps reduce oily skin and clogged pores, and helps relieve constipation, diarrhea, flatulence, stomach cramps, and cold and flu symptoms.

The Complete Guide to Clinical Aromatherapy: Bitter orange essential oil is uplifting and useful for relieving sluggish digestion, dull-looking complexions, and mouth issues such as sore gums and ulcers.
Eden's Garden: Gently uplifting bitter orange oil dissolves stress. In skin care, the oil may help reduce uneven tone, brighten skin, and decrease signs of aging. Diffused, the oil supports the immune system. For a a skin-nourishing massage, you can dilute 12 drops essential oil in 2 tablespoons carrier oil.
Cleaning Spray

1 cup distilled water
1 cup white vinegar
10 drops bitter orange essential oil
10 drops lemon essential oil
A few drops solubilizer

Combine ingredients in a spray bottle. Shake well and use to clean non-delicate surfaces.
Subtle Aromatherapy: Bitter orange "nourishes the soul, feeding it with feelings of joy."
Mixing Essential Oils for Magic: Bitter orange stimulates creativity, boosts self-awareness, and supports following your unique path. The oil moves energy into emotional clarity and positive thinking, creating confidence and a sense of well-being and also helps manifest love, peace, and fidelity. Use the oil for divination, dreamwork, and spirit communication and to increase the success of spells for abundance, happiness, and money.
Oranges Photo by: Zeynel Cebeci, CC BY-SA 4.0, via Wikimedia Commons