Guide To West Indian Bay Essential Oil and Its Benefits and Uses

West Indian bay essential oil (Pimenta racemosa) "brings the angels of our future closer. It can assist us in looking forward and... allows us to see ahead and plan for that rainy day," writes aromatherapist Valerie Ann Worwood in Aromatherapy For the Soul.

West Indian bay, also called bay rum, is sometimes confused with bay laurel (Laurus nobilis) essential oil. Though the two share some broad aromatic similarities, they are different oils.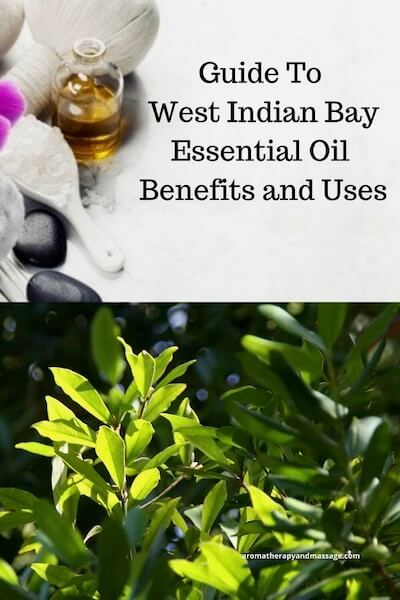 Basic West Indian Bay Facts
Plant family: Myrtaceae

Production: Steam distilled from the leaves of the bay rum tree, a tropical evergreen, and sometimes called bay leaf essential oil.

Aroma: Fruity, spicy, herbaceous—often considered masculine. The scent is popular in men's personal care products.

Perfume/Aromatic note: Middle to top

Is bay safe to use during pregnancy? Probably not. Consult a professional.

Is bay essential oil safe for children? Some sources recommend not using the oil with children under age 2.

Cautions: West Indian bay may inhibit blood clotting. The oil has a low risk of skin sensitization and mucous membrane irritation. Essential Oil Safety recommends a maximum skin use of 0.9%, based on typical eugenol content.

Main components:
Bay rum has three known chemotypes. The most common, and the one you'll likely find for sale, is ct. eugenol. The other two are ct. citral, which has a lemony scent, and ct. methylchavicol, which has an anise-like aroma. The components of the eugenol chemotype:

eugenol         44.4–56.2%
beta-myrcene  6.4–25.0%
chavicol         9.3–21.6%
linalool          1.7–6.0%

Source: Essential Oil Safety, 2nd Edition

Bay Essential Oil Benefits and Uses

The Complete Book of Essential Oils and Aromatherapy: Use bay essential oil for muscle aches and pains, neuralgia, arthritis, circulatory conditions, and digestive problems.

The Encyclopedia of Essential Oils (updated edition): You can use bay rum to stimulate the scalp, to make a hair rinse to help get rid of dandruff, to improve greasy & lifeless hair, and to promote hair growth. The oil may also help relieve colds and flu, muscle aches and pains, sprains & strains, rheumatism, neuralgia, and poor circulation.

Essential Oils: A Handbook for Aromatherapy Practice: West Indian bay oil is most often used to help relieve muscle and joint pains, neuralgia, and poor circulation. The oil blends very well with lime, grapefruit and lemon, ylang ylang, lavender, geranium and black pepper.

The Complete Aromatherapy and Essential Oils Handbook for Everyday Wellness: The main use of bay is in hair preparations. This essential oil may stimulate the scalp, improve the appearance of greasy hair, encourage hair growth, and help get rid of dandruff. Use up to 1 drop bay oil in 2 teaspoons carrier oil.

The Complete Guide to Aromatherapy, Vol. 1: To help relieve cold and flu symptoms, diffuse bay blended with eucalyptus, peppermint, lemon, tea tree, or thyme essential oil.

Aftershave

1/2 cup witch hazel
1 drop cinnamon essential oil
5 drops bay leaf essential oil

5 drops sandalwood essential oil
6 drops cedarwood essential oil
Put all ingredients in a 4-punce dark glass bottle. Shake well before each use.

Source: Rocky Mountain Oils
Diffuser Blend
4 drops bay leaf essential oil

2 drops orange essential oil
1 drop clove essential oil
Adapted from Aromaweb
Split-End Hair Treatment Oil
10 teaspoons jojoba oil
9 teaspoons coconut oil
3/4 teaspoon vitamin E oil
7 drops bay leaf essential oil
8 drops lavender essential oil
10 drops tangerine essential oil
4 drops star anise essential oil
Mix all the ingredients in a dark container. Rub a small amount of the oil into your palms and apply sparingly to split-ends. Leave in.
For a more intensive treatment, apply a generous amount of the blend to the split-ends. Cover hair with a shower cap. After one hour, shampoo your hair.
Adapted from Base Formula

Photo Credit: David Stang. First published at ZipcodeZoo.com, CC BY-SA 4.0 via WikiMedia