The History of Massage Therapy
The history of massage is difficult to pin down. With so many different types of massage and so many cultural variations, many myths abound. For example, did you know that Swedish massage wasn't created in Sweden and that Peter Henrik Ling is not (as popularly believed) the "Father of Swedish massage?"
Find out more with The History of Massage by Robert Noah Calvert, founder of Massage Magazine. This book provides a comprehensive history that spans the globe and is probably the most definitive and well-researched work you'll find about massage history.
Ancient History
We do know that massage is an ancient practice. In Greece, Hippocrates advocated massage and wrote about various "rubbings" and their effects. In Rome, Julius Caesar reportedly received daily massage to treat neuralgia.
In Egypt, tomb paintings show images of people receiving massage. Plus, massage is part of Ayurveda, the traditional medical practice of India, and the oldest known book about massage, written in China around 3,000 BC, is Cong-Fu of the Toa-Tse.
The 19th and 20th Centuries

As with many ancient practices, massage fell out of favor in the West for some time, but then made a comeback in the 19th and 20th centuries. In 19th century Europe and America, what we now know as the techniques of massage were part of medical gymnastics practiced by the medical profession.
Here's where Peter Henrik Ling (1776 - 1837) comes into the history of massage. Ling put together a system of "medical gymnastics" (what we would now call exercise). Various names have been used for Ling's system, including Swedish Movement Cure and Swedish Gymnastics. The system had three parts:
Active gymnastics (exercise)
Active-passive gymnastics (now called range of motion)
Passive gymnastics (where the patient let the attendant perform each movement; now called massage techniques; however, Ling never used the word massage)
It was Johan Georg Mezger (1838 - 1909) who took Ling's passive gymnastics, further developed the techniques, gave them the French names they have today (effleurage, petrissage, tapotement, etc.), and put together what in the U.S. is now generally called Swedish massage (in Europe, it's commonly called classic massage).
Books in the History of Massage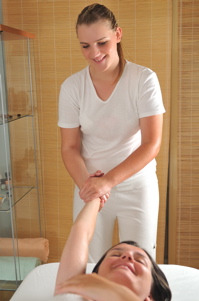 In the late 19th and early 20th centuries, physicians wrote a number of massage-related books, including:
1886 - Massage as a Mode of Treatment by English physician William Murrell
1887 - Massage Principles and Practices of Remedial Treatment by Imparted Motion by George H. Taylor. M.D.
1890 - Manual Therapeutics, a Treatise on Massage by Douglas Graham, M.D.
1892 - Handbook of Massage by Emil G. Kleen, M.D.
1895 - The Art of Massage by John H. Kellogg, M.D.
1904 - A Text-Book of Mechano-Therapy by Axel V. Grafstron, M.D.
1921 - Massage and Medical Gymnastics by Emil G. Kleen, M.D.
Nurses got in on the book-writing too:
1911 - Text-Book of Massage and Remedial Gymnastics by Louisa Despard
1920 - Massage--A Elementary Textbook for Nurses by Nellie Macafee
1921 - A Textbook of Massage for Nurses and Beginners by Maude Rawlins and Massage and Therapeutic Exercises by Mary McMillan
1932 - Fundamentals in Massage for Students of Nursing by Kathryn Jensen
Another early book of interest is the 1918 Massage and the Original Swedish Movements by Kurre W. Ostrom.
Mid-20th Century to Date

By the mid-20th century, massage had mostly moved out of the realm of medicine, paving the way for independent massage practitioners.
A seminal book for the massage profession published in 1964 was Massage: Principles and Techniques by physical therapists Gertrude Beard and Elizabeth Woods. An updated version of the book is still in print as Beard's Massage: Principles and Practice of Soft Tissue Manipulation.
Massage began making a comeback in the 1960s and 70s. The 1972 The Massage Book by George Downing (a massage and body awareness teacher at Esalen) introduced massage to a wider public.
Two other books important in the development of the current massage profession were The Road to Radiant Health - A Textbook on Massage Therapy and Hydrotherapy and Related Techniques by Ruth E. Williams, published in 1977, and Healing Massage Techniques by Frances M. Tappan, published in 1980. An updated version of Tappan's book is still in print today as Tappan's Handbook of Healing Massage Techniques.
Today, there are probably more than 100 types of massage and related bodywork. In 2013, massage was an estimated $8 to $10 billion industry with the number of U.S. massage practitioners and massage students between 300,000 and 350,000, according to the 2014 Massage Therapy Industry Fact Sheet from the American Massage Association.
Photo Licensed from Natural Touch Marketing.

Home › Benefits of Massage › History of Massage