5 Steps to a Massage Therapy Career
If you have a keen interest in the human body and helping people, a massage therapy career might be for you.
Here are five steps to get you started toward becoming a massage therapist.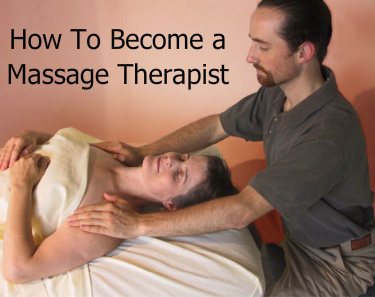 1. Learn about massage.
Become familiar with various massage techniques and other bodywork. Do you want to learn Swedish and Western styles of massage (such as neuromuscular therapy, trigger point therapy, and sports massage)? Or are you interested in shiatsu, acupressure, and other Asian bodywork?

Read about massage and receive as many sessions from as many different practitioners as you can. For more in-depth knowledge, read the massage trade publications: Massage Magazine, Massage Therapy Journal (publication of the American Massage Therapy Association), Massage & Bodywork (publication of Associated Bodywork and Massage Professionals), and Massage Today. Massage therapy as a profession requires a commitment to continual learning.
2. Know yourself.
Take inventory of yourself and your motivations for wanting a massage therapy career:
Do you care about people's well being? Do you enjoy working with people? Are you comfortable with a wide range of people? You need to be able to work non-judgmentally with people of all shapes and sizes, who may have a wide range of physical situations or medical conditions.
Can you set appropriate boundaries? While most people are a pleasure to work with, a few will make inappropriate requests or behave inappropriately. You need to deal with these situations effectively.
Can you handle the physical demands of a massage therapy career? Massage is strenuous physical work. If you think of and treat yourself as a massage athlete in training, you will be ahead of the game.
3. Be aware of massage laws.
Find out about licensing or other legal requirements in the city/county/state/country where you want to practice. Many U.S. states and some Canadian provinces have massage licensing laws. A license is not necessarily transferable from one state to another. For example, some states require as little as 250 hours of training, while others require 1000 hours or more.

Check with your state/province. In states without licensing laws (and sometimes in states with laws), cities or counties may have their own requirements. Check with the business licensing division of the local government.
4. Choose a massage program.
Decide what type of massage or bodywork training you want. Do you solely want to do relaxation massage or do you want to work in a hospital or other medical setting? Some massage training programs are specific to one or two types of massage while other programs are more general.
Choose a massage school that offers training in the areas that interest you and meets the legal requirements of the location where you plan to work. Contact several schools in the city or state where you want to study. Get details about the programs or courses offered, the schedule, and the financial requirements.

Visit the schools! Your first impressions often tell you a lot. If the school offers an introductory class or career day, attend it to check out the school and instructors. You might also ask to observe a class, meet with current students and instructors, and/or talk with graduates.

Many schools have student clinics where the public can receive massage sessions from students at a discounted price. Schedule a session to see what goes on inside.

Ask a lot of questions. Interview the school—the same as they will interview you. Reputable schools will give you all the information you ask for. Here are some possible questions:
How many graduates pass the licensing exam on the first try?
Are career services assistance or job placement services available?
Is the school accredited by any state or national organizations? In the U.S., is the school accredited by the Commission on Massage Therapy Accreditation (COMTA)?  (Not all good schools go through the accreditation process.)
Is the school licensed to operate by the state where it's located, and on the list of approved massage schools in that state? Most states that regulate massage require you to complete a state-approved program to take the licensing exam.
What is the content of curriculum?
Does the school have professional affiliations? If a massage school is involved with industry associations, it's usually a good sign the staff is dedicated to keeping up with advances in the massage field and the ever-changing laws and regulations that govern it.
On a more personal level, other factors to consider include:
Do you like the atmosphere, environment, and student population?
Does the school's philosophy fit yours?
Does the class schedule fit your needs?
Does this school provide excellent value in how it prices its program? For most people, cost is a factor, but what you really want is great value.
If you need them, are financing options available?
Would you feel welcome at this massage therapy school?
5. Develop a massage therapy career plan.
As you approach the end of massage school, develop a massage therapy career or business plan to get you started in your new career.
Understand the different settings where you can do massage therapy: private practice, massage clinics, spas, resorts, cruise ships, health clubs and fitness centers, medical settings (chiropractor's or other doctor's office, holistic health or sports medicine clinic, nursing homes, hospitals), sports teams, housecalls, and onsite chair massage.
You have a number of options for starting your massage therapy career, including:
You can take a job in a setting, perhaps a spa, health club, or medical office, where the clients are supplied. You get experience without the challenge of marketing to develop clientele. Pay can range from low to OK.
You can jump right into your own practice, which requires dealing with marketing, business, and financial considerations. Be honest in accessing both your financial and personal ability to start your own business. It will probably take two to four years to build a private practice that financially supports you.
You can combine the two above approaches, perhaps working two or three days at a health club while building a private practice on the other days.
You can keep a full- or part-time non-massage job while you start building a massage practice.
Have a great massage therapy career!