Online Sources for Massage Therapy Business Cards

In the 20th century buying massage therapy business cards meant designing a card and taking a proof to a local printer to get printed cards. Today, you have plenty of affordable online choices with lots of designs and templates to choose from.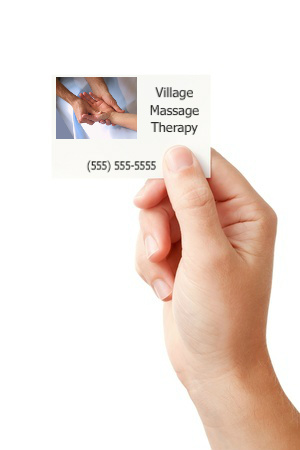 When you order cards, your choices include:

Standard business card size (3.5" x 2") or a custom size? Custom sized or shaped cards can be interesting but consider that they don't fit into business card sheets or into stacks of cards that people keep.


Horizontal or vertical layout?


Card stock color? White used to be most common but other colors can convey a different feel.


Card stock weight? Avoid lightweight, flimsy card stock, as it makes you look cheap.


Font color and size? This choice is an important design element. Make sure it's easy to read.


Glossy or matte finish? A glossy coating gives cards a look shiny and makes an image or full-color design stand out. A non-shiny matte finish produces a more classic feel and works well for text-heavy designs. Matte cards are easier to write on.


What information do you want to include on the card? In addition to basic contact info, maybe you want your USP or a call to action.


Do you want something printed on the back of the card? For example, you could offer a special for first-time clients, use the space for appointment reminders, advertise the availability of gift certificates, or request referrals with a place for clients to fill in their name and the name of their referral.
Where to Buy Massage Therapy Business Cards

1. If you want to print your own cards or take them to a local printing shop, check out Sohnen-Moe Associates. The company, which offers a variety of massage supplies, has over 150 downloadable business card designs. You can customize the design with your information and then print as many as you want using a full-color printer and quality card stock.
2. You can also design your own cards at Canva.
3. To buy cards already printed, an option is SmartPractice, which primarily sells chiropractic supplies.
Here are my top three general business card companies (based on number of designs available) that offer massage therapy designs and customizable templates:
5. VistaPrint
6. Zazzle
Other companies with designs for massage business cards:
7. Moo
Some of these companies will also let you upload your own design. Whatever your choice:

Make sure the design conveys an image of your business that you want potential clients to see.


Triple check that all the information on the card is correct. Writing in a correction looks amateurish.
Use and enjoy your new business cards!
Image: Modified from dinga / 123RF Stock Photo