Buying Massage Liability Insurance For Your Massage Business

For professional massage therapists, massage liability insurance is a necessary cost of doing business.

Liability claims against massage therapists are low compared to most other healthcare professions, meaning that insurance rates are also low. A couple of hundred dollars a year is meager amount to pay for the protection you will have if someone files a claim against you.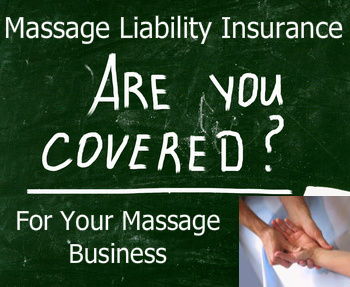 Understanding Insurance Options
When looking at massage therapist insurance options, it's important to understand the different types of coverage:
Massage therapy liability insurance, which could be called massage malpractice insurance, protects you if a client claims your massage caused an injury or other adverse effect.


General liability insurance (trip and fall insurance) covers you if a client is injured or has property damaged while on the premises of your business.


Product liability insurance covers bodily injury or damage resulting from the use of a covered product. Make sure your client isn't allergic to that new oil you want to use!
Liability coverage is expressed with limits that look like this: $2 million per occurrence/$6 million aggregate. This means you are covered up to $2 million for any one claim and up to $6 million total.
Some massage therapy insurance policies also cover things such as lost or stolen equipment. Most policies also have exclusions — make sure you know what they are.
Claims-Made vs. Occurrence Policies
If the insurance is a claims-made policy, you must file a claim during the policy period. If the insurance is an occurrence policy, you can file a claim after the policy period if the incident occurred during the period.
Buying Massage Liability Insurance

Two common ways to get insurance are by joining the American Massage Therapy Association (AMTA) or the Associated Bodywork and Massage Professionals (ABMP).
However, liability insurance is available from other sources, including:
This list is not an endorsement of any company. Do your own research.
Ask other massage therapists about their experience with insurance policies. Check out the reputation and rating of companies offering massage insurance.
Make sure you know what a policy covers — some policies may not cover certain types of massage or additional services such as ear candling or heat/cold therapy.
You need to understand what different policies cover and what the limits are, so  you can choose the best coverage for your situation.