Homemade Foot Scrub Recipes With Essential Oils

Treating your feet with a homemade foot scrub containing essential oils can soften your skin, exfoliate dead skin cells, and leave you feeling refreshed and renewed.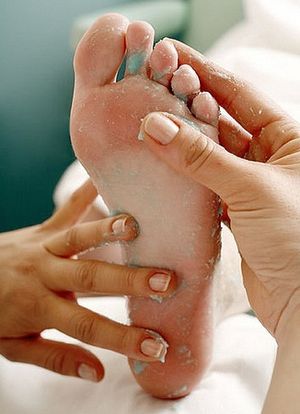 For a simple foot scrub recipe, mix one tablespoon of olive oil, one tablespoon of sea salt, and a drop of your favorite essential oil. Use the mixture to scrub your lower leg and the bottom of your feet.
Another option is to blend 10 to 15 drops of your chosen essential oil(s) with 4 tablespoons of brown sugar and use the mixture as a foot scrub.
Soften Rough Feet
Caution: Don't use this aromatherapy recipe on damaged or sensitive skin.
3 tablespoons finely ground spent coffee grounds
1 teaspoon cornmeal
1 teaspoon extra-virgin olive oil
1 tablespoon rice, whole-wheat, or white flour
1 tablespoon whipping cream
2 drops tea tree essential oil
2 drops lavender essential oil
Place coffee grounds and cornmeal in a small bowl. 
Stir in olive oil.
Add flour and whipping cream. Stir well to make a thin paste.
Stir in essential oils.
Hold one foot over sink or tub, and use about half of the mixture to gently scrub entire foot and ankle area. Rinse. Pat dry.
Repeat on other foot.
Moisturize feet.
Source: Aromatherapy: A Complete Guide to the Healing Art
Oat Foot Scrub Recipe
Choose essential oils for this recipe that support the results you want for your body:
1/2 cup rolled oats
1/2 cup cornmeal
1/2 cup coarse salt
1/2 cup light olive oil
8 to 12 drops essential oil(s) of your choice
Stir all the ingredients together until you have a thick, grainy mixture.
Spoon mixture into a clean container with a tight-fitting lid and store in a cool, dark, dry place. (It'll keep for about 4 weeks.)
To use, massage about a tablespoon of mixture into each foot. Leave the scrub on for 5 to 10 minutes, and then rinse it off with warm water.
Source: EcoBeauty: Scrubs, Rubs, Masks, and Bath Bombs
Peppermint Homemade Foot Scrubs
With rosemary:

1 teaspoon almond oil
1 tablespoon fine sea salts
1/4 cup cornmeal
3 drops rosemary essential oil
5 drops peppermint essential oil
Combine ingredients, adding a little warm water until you have a thick paste.
Apply to your feet and massage vigorously.
Rinse your feet well with warm water.
With tea tree:

4 tablespoons Epsom or sea salt
2 tablespoons coconut oil
3 drops peppermint essential oil
3 drops tea tree essential oil
Mix all the ingredients in a bowl until well combined. Massage the scrub onto the feet and legs. Rinse off.
Source: 100 Amazing Blends and Uses of Essential Oils
Warming Essential Oil Foot Scrub

Great for cold feet! Soak your feet in a small tub of warm water, and then use the scrub.

4 tablespoons brown sugar
2 tablespoons vanilla-infused jojoba oil
10 drops black pepper essential oil
10 drops orange essential oil
10 drops frankincense essential oil

Blend all the ingredients in a 4-ounce (120 ml) glass jar. Makes three foot scrub sessions.
 
You can buy ready-made vanilla-infused jojoba, or you can make your own. Fill a one-quart jug with jojoba oil. Drop two or three fresh, whole vanilla bean pods into it. Let the jug sit for about two weeks before using the oil.

Source: Aromahead
Cranberry Homemade Foot Scrub
1 tablespoon cranberry seed oil
2 drops grapefruit essential oil
2 drops lavender essential oil
1 drop roman chamomile essential oil
1/4 cup sugar
2 teaspoons raw honey
Combine the cranberry seed oil and essential oils in a glass bowl.
In a separate glass bowl, combine the sugar and honey.
Add oil mixture to sugar mixture. Mix well.
Place scrub in a jar that has airtight lid. Label and date.
To use: Wet feet and massage 2 tablespoons of the scrub onto the feet. Rinse.
Source: Jamie Michaels, RN, CCA, CAI. NAHA Aromatherapy Journal, Autumn, 201.3, p. 74.
Also see body scrub recipes or homemade foot soaks.
Photo Credit: 644-01435851 CC