Some links on this site are affiliate links, where I may earn a commission if you make a purchase. This does not affect the price you pay. Privacy Policy / Disclosures

How To Use Essential Oils for Oily Hair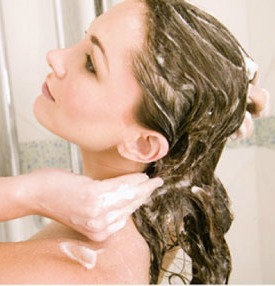 If you want a simple recipe using essential oils for oily hair, add 8 drops lemon essential oil and 8 drops geranium essential oil to an 8-ounce bottle of unscented, nondetergent shampoo. Wash your hair as usual.
If that doesn't work for you, try any of the other essential oils that Aromatherapy for Dummies lists as the best ones to use for oily hair:
Basil
Cedarwood
Clary sage
Cypress
Eucalyptus
Helichrysum
Juniper berry
Lemon
Lemongrass
Myrtle
Palmarosa
Patchouli
Sage
Sandalwood
Tea tree (Melaleuca alternifolia)
Vetivert
Oily Hair Rinse
To make an after-shampoo rinse for oily hair, combine:
1 cup water
2 teaspoons cider vinegar (the smell goes away quickly)
2 drops lemon
1 drop tea tree 
Oily Hair Treatments with Essential Oils

Use the following hair treatment by massaging one teaspoon of the blend into your hair and scalp and leaving the blend on your hair for at least several hours. You can also use the blend at bedtime and leave it on overnight by wrapping your head in a towel.
8 drops petitgrain
8 drops lemon
8 drops lavender
2 tablespoons hazelnut oil
Source: 500 Formulas For Aromatherapy
Oily Hair Treatment #2
Massage the following blend into your scalp for two to three minutes. Leave it for 60 to 90 minutes, and then wash your hair:
6 drops peppermint
4 drops lemon
2 drops lavender
1 teaspoon carrier oil
Source: Essential Oils Desk Reference
Honey and Lemon Oily Hair Mask
1 egg yolk 
1 tablespoon of honey 
10 to 12 drops lemon essential oil
Apply the mask to your hair and leave it for about 20 minutes. Shampoo as usual.
I recommend Young Living essential oils.

Related articles:
Normal Hair Dry Hair Oily Hair Hair Growth
Photo Credit: Flickr User UrbaneWomenMag
Home › Essential Oil Recipes › Essential Oils For Oily Hair