How To Use Essential Oils For Muscles To Relieve Soreness, Cramps, and More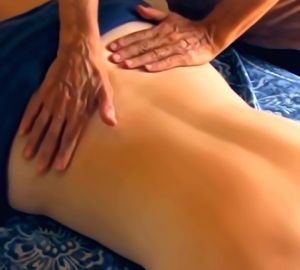 Let's look at ways to use essential oils for muscles to help relieve tension, soreness, cramps, and more. For recipes for rubs similar to Tiger Balm, see Muscle Pain Relief Rubs.

Achy, Sore Muscles
To help relieve sore, stiff muscles, add the following to a hot bath and soak for at least 20 minutes:
2 cups Epsom salt
3 drops lavender
5 drops juniper
6 drops rosemary
For a massage to relieve muscle aches and pains caused by strenuous activity, add up to 8 drops of one of the following essential oils to 4 teaspoons of carrier oil:
Eucalyptus
German chamomile
Ginger
Juniper
Lavender
Marjoram
Rosemary
You can use the following blend suggested by Advanced Aromatherapy to massage tense muscles or specifically to relieve muscle cramps: 
20 drops cypress
20 drops tarragon
20 drops thyme (thujanol type)
40 drops marjoram
4 tablespoons carrier oil
Essential Oils For Muscle Cramps

If you tend to get muscle cramps during exercise, Healing With Aromatherapy recommends massaging some of the following blend into your muscles before you exercise:
7 drops black pepper
6 drops rosemary
5 drops juniper
2 tablespoons arnica oil (Note: Buy one that does not already contain essential oils)

To relieve muscle cramps, Aromatherapy for Dummies suggests this blend of :
8 drops lavender
4 drops marjoram
6 drops German chamomile
4 drops peppermint
4 tablespoons carrier oil (an oil infused with St. John's wort or arnica works best)
Another essential oil blend for muscle cramps from Massage & Aromatherapy:
3 drops lavender
3 drops marjoram
3 drops rosemary
1 drop sandalwood
3 tablespoons almond oil
Massage blend briskly into affected muscles.
Another blend of essential oils for muscles from Aromahead:
9 drops bergamot
4 drops Roman chamomile
3 drops lavender
2 drops sweet marjoram
2 tablespoons unscented cream or jojoba oil
Massage some into the cramped area.
To use essential oils for leg cramps, try this muscle cramp blend:
4 drops peppermint 
4 drops marjoram 
4 drops lavender
2 tablespoons carrier oil
To relieve muscle soreness or pain after the initial cramping, Aromatherapy: A Complete Guide to the Healing Art suggests this massage blend: 
30 drops lavender 
10 drops marjoram 
5 drops frankincense 
4 tablespoons carrier oil
Muscle cramps are often caused by mineral deficiency or imbalance. Are you getting enough calcium, magnesium, and potassium and not too much salt in your diet? If you tend to be tense, consider getting regular massage therapy or use other relaxation techniques.
Muscle Injuries
To help prevent swelling and bruising after a muscle injury, combine 10 drops helichrysum and 5 drops German chamomile in 2 tablespoons carrier oil. Apply to injured area immediately after the injury and periodically for several days, if needed. (Don't use on open wounds.)
For muscle strains, use up to 8 drops of one of the following essential oils in 4 teaspoons of carrier oil:
Cypress
Frankincense
German or Roman chamomile
Juniper
Lavender
Marjoram
Rosemary
Energizing Leg Muscles
Make an energizing leg gel with this aromatherapy recipe from EcoBeauty: Scrubs, Rubs, Masks, and Bath Bombs: 
3 to 4 drops peppermint essential oil
1 tablespoon witch hazel
1/2 cup aloe vera gel
1-1/2 teaspoons cornstarch
Combine the witch hazel, aloe vera, and cornstarch in a double boiler.
Cook on low heat, stirring occasionally, for about 5 minutes, until ingredients are blended.
Remove the double boiler from heat and then stir the mixture.
Let the mixture cool.
Stir in the peppermint essential oil.
Pour the mixture into a clean jar with a lid that fits tightly.
Store the leg gel in a cool, dark, dry location. This gel will be good for three to four weeks.
Click here for where to buy essential oils.
Photo Credit: MorgueFile

Home › Aromatherapy Treatment › Essential Oils for Muscles